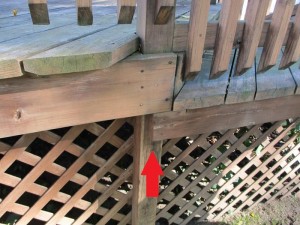 The deck may just be the most important item that your Home Inspector checks from safety standpoint. The deck is an important selling feature on many homes in the area. Decks allow us to enjoy the outdoors during the warmer months and are commonly used for entertaining during parties and outdoor festivities. A well built deck should provide many years of enjoyment, with an average lifespan of 15-25 years. A poorly built deck could deteriorate much quicker and require costly repairs, or even worse, suffer a catastrophic failure.
Deck failure statistics
A five year study by the Consumer Product Safety Commission, conducted from 2003-2007 showed that nearly 225,000 people were injured in deck related accidents and required an Emergency Room visit. Over 33,000 of those visits were caused by an actual deck collapse. What's worse is that the rate of occurrence was shown to be increasing over the five year span, going up from 37,760 in 2003 to 55,160 by 2007. What's clear is that deck related injuries are on the rise.
While decks are typically subject to a building permit and review by a building inspector, the International Residential Code (IRC) is surprisingly vague on actual deck construction procedure. Instead, the IRC focuses mainly on the construction of buildings themselves, leaving municipal building inspectors with little guidance.
In addition, decks appear to be simple to build, meaning that they are one of the most popular homeowner attempted projects. Some homeowners never even bother to obtain permits. Their work may look just fine, but can lack the proper construction and review to guarantee its safety. The deck in these pictures was a "homeowner special." The joists pictured are all nailed on, but lack the necessary vertical support to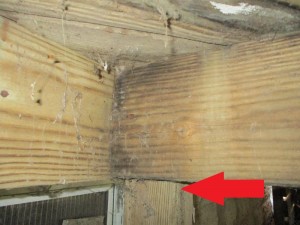 prevent the possibility of collapse. The joists should be either resting on a beam or hung from a joist hanger. The homeowner may have been trying to save a few bucks, or perhaps they just didn't know what they were doing. Either way, this deck isn't built right and it's only a matter of time until it fails.
Why so many injuries?
Why are there so many injuries related to decks? Decks usually fail when they are loaded or overloaded. This means that they deck is not nearly as likely to collapse when you're out back having a beer and relaxing by yourself. It's probably going to fail during your big event, like a graduation party or neighborhood cookout. If your deck collapses, there will probably be a lot of people on it, and they'll all be taking the fall.
How your Home Inspector can help
A good Home Inspector should thoroughly inspect the deck. This means crawling underneath, if at all possible. You may find that many Home Inspectors don't want to crawl underneath the deck, so it's a good idea to ask them if they will prior to hiring. From underneath, the Inspector will be able to check to make sure proper joist hangers and fasteners are used and verify that the ledger board, which attaches the deck to the house, is properly fastened. Ledger boards should be fastened with bolts and should be properly flashed. It's not uncommon to see nails or deck screws used instead or missing flashing. Both of these conditions can lead to deck collapse and injury or death of everyone on or near the deck.
In addition, your Home Inspector should check the condition of all stairs, handrails and the deck railing to make sure that they are built with correct materials and are strong enough to hold up to regular use.
The bottom line here is that whether it's physical injury, or simply the incurring the expense of repairs or replacement, don't make your family members pay for some else's bad deck. Hire a good Home Inspector and make sure they give the deck an extensive review.