You might think that's a funny question; a Home Inspector is required to go on the roof during the inspection, isn't he?
WRONG! Home Inspectors are not required to walk on the roof according to New York State Regulations, a Home Inspector is not required to do anything dangerous to their own safety. Over the years, I've had friends and relatives tell me that their Inspector flat out refused to walk the roof.
The arrow in the picture below points to a crack in the skylight that was not visible from the ground. That's an expensive and crucial thing for an inspector to miss, and it's something that you, the buyer, will need to have fixed right away.
What else can your Home Inspector see from the roof?
Amongst the other significant defects that I've found by walking on the roof are;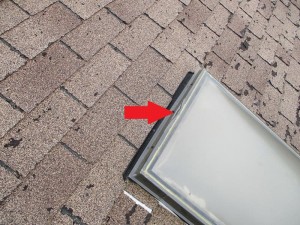 Broken, cracked and badly repaired chimneys
Poorly installed or missing roof flashing around pipes, chimneys walls
Defective, cracked shingles, broken tabs
Shingle installation errors, uplifted and missing nails
Each of these problems were easy to identify from the roof, but would be invisible, or nearly undetectable from the ground. That's why it's important that you find out if the Home Inspector that you are going to hire will actually walk on the roof during the inspection. How do you find out? Ask him!
For safety's sake
I want to close this posting by saying that there are some roofs are legitimately not safe to walk on. These are generally very steep roofs with a pitch of 8 in 12, roofs that are wet, snow or ice covered, or damaged roofs that truly could be a dangerous situation for the inspector to walk. In those cases, life safety simply must take priority.
The lesson here is to ask your Home Inspector if they walk the roof before hiring them. They could be missing serious defects on your future home if they don't.